Discover more from American Gravy
Craveworthy, Simple Food.
Over 4,000 subscribers
Turkey meatballs became popular for those trying to eat healthy - mainly due to the fact the meat is so lean and lower in saturated fat than beef meatballs. Also, as a protein and powerhouse, turkey meat is great for you (not to say beef is bad). Ground turkey is typically less expensive than ground beef, and with Thanksgiving around the corner, turkey is everywhere.
Personally, the reason I love using ground turkey doesn't involve nutrition or fat, instead, I like the lighter and leaner flavor of ground turkey in dishes that traditionally use ground beef. It is a great palette upon which to add your own flavors. Beef on the other hand is very distinsct in flavor, and typically overshadows garnishes like veggies and light herbs.
American Gravy is a reader-supported publication. To receive new posts and support my work, consider becoming a free or paid subscriber.
Also, since turkey is leaner, it's incumbent upon you to add your own fat which can be fun. In this case I fold in whole butter which lards the meatballs from the inside while they cook. The milk solids in the butter add a ton of flavor as well.
Ingredients:
1 cup diced carrots (about 2 large carrots)
½ onion diced
4 cloves garlic minced
1 green zucchini diced
½ red pepper diced
1 cup orange juice
1 lb ground turkey
5 oz package Boursin cheese
3 tablespoons butter sliced and softened
3 eggs
1 tablespoon freshly chopped basil
1 teaspoon fresh thyme
½ teaspoon dried oregano
2 cups panko bread crumb
2 tablespoons grated fresh parmesan
Instructions:
Add 1 tablespoon avocado or olive oil to a medium-sized sauté pan. Allow to heat up until shimmering but not smoking.

Add the carrots, onions and peppers to the pan and sauté until lightly browned and caramelized. Add the garlic and sauté for another 45 seconds. Then add the zucchini and sauté for another 30 seconds until fully combined.

Deglaze the veggie mixture and mix in the orange juice until slightly reduced - about 30 seconds.

Remove the mixture from the pan, place on a plate or bowl and cool in the fridge.

While the veggies are cooling, mix the remaining ingredients in a bowl until thoroughly combined.

When the veggies are cooled down (warm is fine) mix them into the turkey meat mix.

Form into large balls and place on a lightly oils baking pan.

Bake in a 400F oven for about 20 minutes or until the inside registers at 155-160F.

While the meatballs are cooking bring some tomato sauce to a simmer. When the meatballs are finished, scoop into the tomato sauce, mixing any of the fat that was on the pan into the sauce as well. Simmer together for about 1 minute then serve.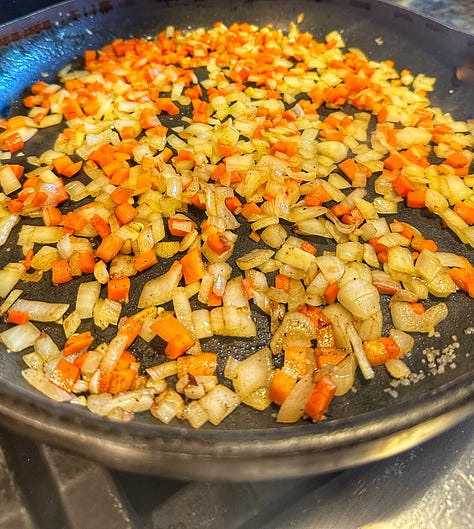 Variations:
You can use this mix to form the meat into patties for burgers or even meatloaf. It also goes well stuffed into portobello mushrooms or peppers. It's very universal and a great way to get more protein and veggies into your diet.
American Gravy is a reader-supported publication. To receive new posts and support my work, consider becoming a free or paid subscriber.