Discover more from American Gravy
Craveworthy, Simple Food.
Over 4,000 subscribers
Fresh Cranberry Sauce is the easiest Thanksgiving dish to make. It also offers the most opportunity for improvisation. So why do so many people buy it canned or pre-made?
Cranberry sauce is often an afterthought, a must-have table item that is relegated to grandma's side porcelin dish. Well, everyone is missing out on an opportunity to jazz up their Thanksgiving and flex some "chef muscle".
Cranberry sauce is nothing more than fresh cranberries, sugar, water, spice, and garnish. It only takes 10 minutes to cook and can amplify the flavors on your table with a little creativity.
My basic recipe is simple - the only detour is adding pomegranate to add crunch and texture. I simmer this sauce for 10 minutes and it's done.
After this recipe below, I list variations you can try on your own. Have fun.
Fresh Cranberry Sauce with Pomegranate
1 12 oz bag of fresh cranberries
1 cup brown sugar
1 orange zested
1/2 orange (use the zested orange half)
1 cinnamon stick
1 1-inch nob of ginger
1 small sprig rosemary
1/4 cup red wine (optional)
1 cup water
Optional twist - 1 pomegranate seeded (roughly 1 cup of seeds)
Instructions:
Add all of the ingredients to the sauce pot, bring to a boil then reduce to a simmer and cook on low heat for 15 minutes, or until most of the cranberries have burst and come together.
Remove from heat, pull out the cinnamon stick and the rosemary, fold in the pomegranate seeds, and serve.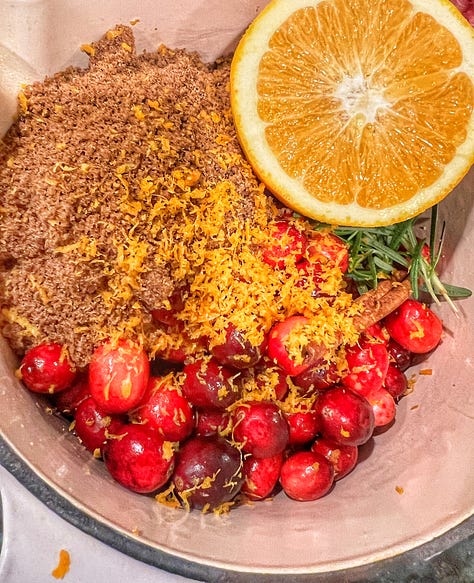 Tip - to easily remove the pomegranate seeds, peel them under water.
VARIATIONS:
Jalapeno Lime Cranberry Sauce - add diced jalapeno and fresh lime juice to the above recipe in place of pomegranate.
Lemon Basil Cranberry Sauce - add freshly chopped basil and lemon juice in place of pomegranate.
Carmelized Onion Cranberry Sauce - start by caramelizing 1 onion for 20 minutes, then build in the same pan using the above recipe.
Peppered Cranberry Sauce - add a heavy portion of ground black and pink peppercorn to the sauce at the end.
Green Apple and Tarragon Cranberry Sauce - Add chopped raw green apple at the end in place of the pomegranate and freshly sliced tarragon.
Smokey Almond Cranberry Sauce - After the sauce is made, add 2 cups of crushed smoked almonds in place of pomegranate.