Discover more from American Gravy
Craveworthy, Simple Food.
Over 4,000 subscribers
Chilaquiles are a traditional Mexican dish that has been around for centuries. This crave-worthy and hearty meal consists of fried tortilla chips that are smothered in a flavorful sauce, typically made with tomatoes, chili peppers, and other spices OR freshly made salsa (recipe below). Chilaquiles can be served with a variety of toppings, including cheese, beans, eggs, or avocado, making them a versatile meal that can be enjoyed any time of day and can become your own with unique customization. Whether you're looking for a savory breakfast, a hearty lunch, or a tasty dinner, chilaquiles are a perfect choice for anyone who loves bold, spicy flavors and hearty, filling meals.
The key to taking this dish to the next level is to use high-quality chips. Most people don't want to take the time to buy beef tallow and set up an entire frying station in their kitchen. Good news, there is finally a product on the market that stands up to the sauce and toppings of this traditional recipe AND it's seed oil free.
American Gravy is a reader-supported publication. To receive new posts and support my work, consider becoming a free or paid subscriber.
Why do I try and avoid seed oils? Seed oils, such as soybean, sunflower, corn, and canola oil, have become popular cooking oils due to their affordability and availability. However, they are considered unhealthy due to their high content of omega-6 fatty acids, which can lead to chronic inflammation and an increased risk of various health problems, including heart disease, cancer, and autoimmune diseases. Consuming too much omega-6 fatty acids and not enough omega-3 fatty acids can shift the balance of fatty acids in the body and promote inflammation. This is also why I promote healthy seafood consumption. Additionally, seed oils are often heavily processed, which can strip them of their natural nutrients and antioxidants, making them even less healthy. For these reasons, it's recommended to limit the consumption of seed oils and opt for healthier alternatives, such as olive oil, avocado oil, or coconut oil.
Masa Chips - the preferred chip used here - are fried in beef tallow and thus seed oil free. (Buy Masa Chips) Their flavor is next-to-none when it comes to retail chips. AND they are cut relatively thick, so they stand up to a bevy of toppings and sauces. See the above picture.
Note: I am not being paid by Masa Chips - they have never talked with me, I just love this product.
So now that you have a great chip to start with, how about a salsa?
Here is our secret tried and true salsa recipe:
2 large ripe tomato
6 green tomatillo
4 garlic cloves
1/2 white onion
1 jalapeno
8 dry arbol chilis
1/2 cup tomato juice
4 limes
Instructions: Char the tomatoes, onion, garlic and peppers in a cast iron skillet (or bake in the oven).
Remove when browned (char is ok).
Place in a blender with the lime juice and tomato juice and blend. Season with salt and pepper to taste.
For the Chilaquiles:
Add 2 cups of the salsa to a pan and bring to a simmer
Add 1 package of masa chips (roughly 5 oz) if you can't get Masa chips, add 5 oz of fried tortilla chips.
Toss in the sauce for 1 minute and allow to sit. If you are using cooked lobster add to the chips at this point. You can also add the following:
beans, chicken, shrimp, beef, shredded turkey, smoked salmon or leave dry.
While the chips and protein are marinating in the sauce, fry your eggs. If you prefer scrambled, go ahead and scramble. This recipe is a map to get to flavor country, not a specific route, insert your own creativity.
To plate: pour the chip mixture onto a plate, add a dollop of guac, sour cream if you want, and top with eggs,
Season with chives and fresh parm. I also love fresh avocado atop.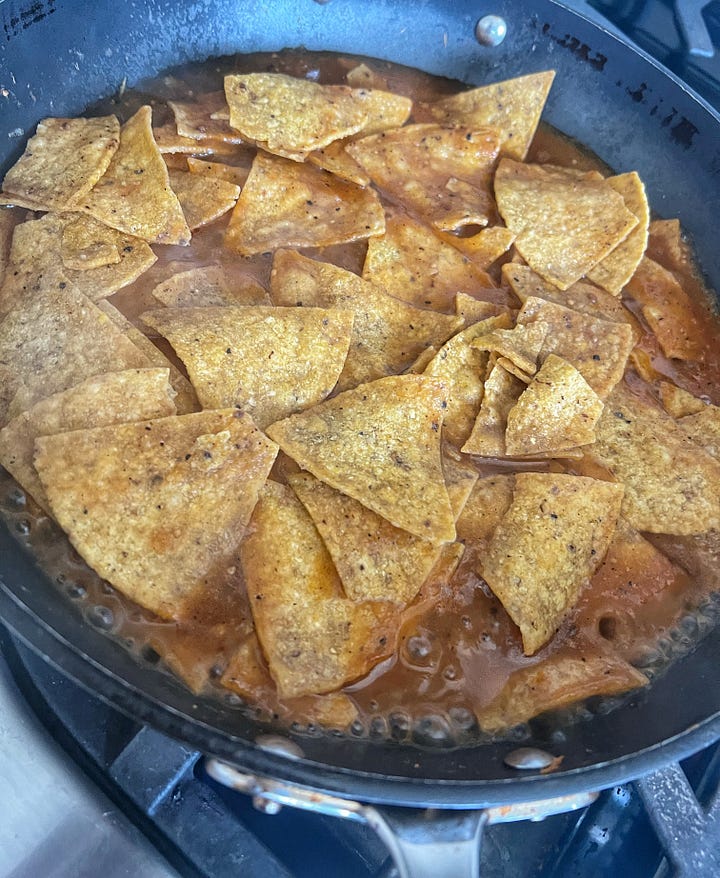 ENJOY! Email me with any questions.
American Gravy is a reader-supported publication. To receive new posts and support my work, consider becoming a free or paid subscriber.