Discover more from American Gravy
Craveworthy, Simple Food.
Over 4,000 subscribers
Beer Cheese
How to produce a dip that is smooth and velvety with subtle beer overtones that's not bitter and cloyingly sticky on the palate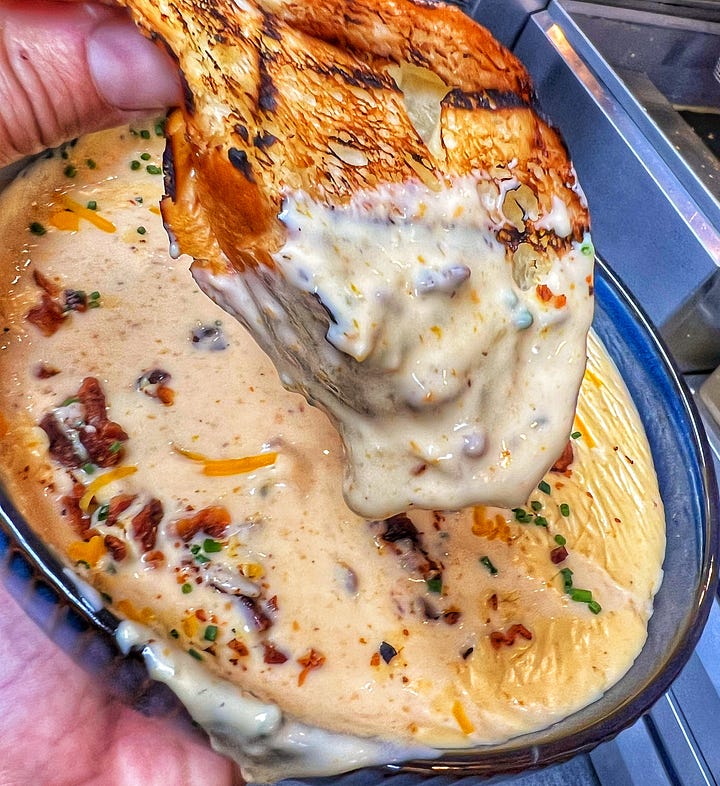 Someone asked me if I could post a recipe for beer cheese. I thought about the last time I ate beer cheese and distinctly remember a gummy mess that tasted like raw flour, raw beer and cheese. Frankly, it was disgusting. So I set out to make a recipe that was both rich and smooth, sharp with cheese and beer, yet subtle and not overwhelming with bitterness. How would I acheive this?
American Gravy is a reader-supported publication. To receive new posts and support my work, consider becoming a free or paid subscriber.
After perusing various beer-cheese recipes online, I found the culprit of the stucco-like consistency of most beer cheese - FLOUR. The plethora of recipes researched call for milk and flour as the base (a traditional bechamel). Typically this is used to thicken creamy sauces and soups, however, flour is very heavy and if not cooked through, or if the flour portion is too high, the sauce never releases that grainy overwhelming floury flavor - thus the awful finish. I knew my answer to that probalem would be to use a lighter thickener - corn starch and water. This starch is much lighter and can be cooked out (flavor-wise) in mere minutes. But the tradeoff is the flavor can be lighter and sometimes tastes "thin". To solve this problem I use heavy cream as the base which is much richer and gives a naturally velvety mouthfeel.
Now onto flavors. I didn't want the warm dip to taste as if someone poured beer over cheese, so I knew I had to jazz the taste level up with a bit of aromatics and sweeten the beer by cooking it down. Adding both raw and roasted garlic also matches the beer with boldness (as opposed to just raw garlic), adding a confident layer to the dip.
Lastly the cheeses; what would be the best mix of sharpness, "meltliness" and and richness? I knew freshly grated mozzarella would add the the melt factor, but I needed something sharp - naturally aged cheddar poppped into my mind. But it was still flat when I tasted my first version. How about some smoke? I grated some smoked goudah which also has a solid melt factor. Bam, this was it.
In addition, I add a solid layer of caramelized aromoatics to the base which includes the unconventional fennel. Fennel is great eaten raw as it tastes like nature's licorice, however, caraemlized the flavors melt together and sweeten a touch with natural sugars - the perfect hedge against a bitter beer base.
Ingredinets:
NOTES: You can play with the armoatcis and cheese to create your own flavors. If you don't like fennel, add celery or another vegetable. If you want it bolder, cut back on the vegetables. The carrots are essential to add sweetness to the beer (cutting the bitterness). If you have other cheeses, feel free to add those, just know the mozzarella helps that "pull" factor.
1/2 cup diced carrot
1 cup diced fennel
1 cup diced onion
2 tablespoon chopped garlic
2 tablespoon roasted garlic
2 quarts of your favorite beer
1 quart heavy cream
1 cup of cornstarch and 2 cups of water (mixed right before adding)
2 cups shredded mozzarella
3 cups chredded cheddar
2 cups shredded smoked goudah
chives and bacon to garnish
Steps:
Add some olive oil to a large sauce pot. Saute your carrots, onions and fennel for 5 minutes (untly lightly caramelized).
Add your garlic and saute for another minute, making sure not to burn.
Deglaze the vegetables with the beer and reduce by half.
Add the heavy cream and simmer for roughly 10 minutes.
At this point, while the sauce is still simmering, add the cornstarch slurry, slowly stirring in until the sauce thickens and coats the back of a spoon.
Simmer for 3 minutes (this will cook out the flavor of the raw cornstarch) YOU MUST SIMMER.
Remove the pot from the heat, add your cheese and blend with a hand mixer (or just stir in until the cheese is fully incorporated).
NOTES: If the sauce isn't thickn enough for your liking, just add more corn starch and water mix. You must add this while the sauce is simmering for the starch to thicken. The cornstarch mix will be cold, so it will take a minute to come back to a simmer.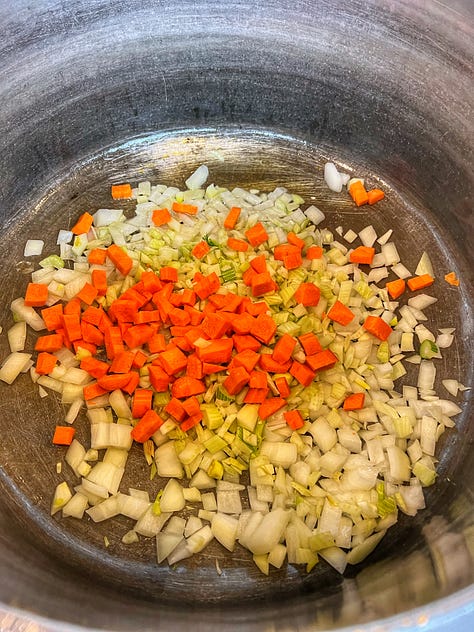 American Gravy is a reader-supported publication. To receive new posts and support my work, consider becoming a free or paid subscriber.